Learn about the head coaches history.
Path to Master This video has been in the making 8 months. it was designed by two 2nd Dan students of mine Adam & Darren Marks after reading the full story in Totally TKD and on our website. They then came and asked if we could do this video for his collage exam. After he showed me it, I cried tbh, a 3 hour interview put into an 8 minute video. It is raw as hell as you get the real Master Snow uncovered as to why I am the way I am, last night 170 guest saw a few tears. My older sister was thanked for saving my life in 1984, as I have never said it and we have never spoken about it, This was when I was 10 she was 16. So doing this publicly hit me with raw emotions.Then introducing a guy Terry Hobbs who in 1989 after my dads passing put me in a choke hold when I was angry as hell in a row with my family, ranting and raving, Terry restled me to the ground after my life spiraled out of control over 10 to 11 weeks. He took time to get through to me and speak to me about dads passing and my feelings, He was the guy that got me to return back to taekwondo. (After 3 months out)One line I remember he said, 'Do you think your dad would proud that you are hurting your family and many around you, you were good at taekwondo so go back and do somthing positive with your life'. We never spoke until last night..This was 30 years ago, his actions put me back in taekwondo, got me off drugs, drink and fighting in pubs, streets. So a few tears here too. I have had many emails this morning asking to share the video to facebook as the vocal was not that good last night, it is a tear jerker but I think you will all understand me better.Master Snow

Slået op af Master Snow i Søndag den 7. april 2019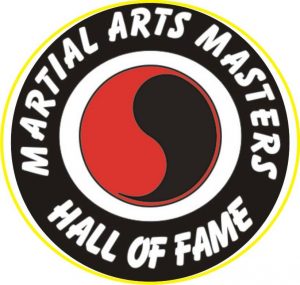 Chris started training in January 1986 after spending more then a year looking for a suitable Martial Art to learn. During his testing time in the arts, he trained in Kung Fu, Karate, Moo Tai and even a small stint in boxing – sadly, nothing really took his fancy. Tae Kwon Do was first taught to him by local Instructor Mr. Billy Vigour, then 2nd Dan, in January 1986. Chris spent a year with him until he decided to transfer from the Hemel Hempstead club to one in St. Albans. His reason for leaving his first coach was he really did not want to grade – this attitude changed as new coach and mentor Mr. John McDonald, then 2nd Degree, helped Chris gain his confidence and start taking exams. In 1987, the club was having major problems so Chris decided to transfer to another Instructor, Mr. Anthony Manning, then 3rd Dan (now a Master). It was here his skill was nurtured to full capacity. Though he was not really a competition person, he soon started taking part and bringing home a few medals. Tony was a man that was tough in his training, but knew how to produce champions being a well seasoned fighter on the circuit and winning many national titles himself. In those days, they were real titles as there was not as many splits as these days, so many people attended the same events.
Chris remained with Tony right up until January 2001. There were a few issues with the group he was with at the time, which was why Chris decided he wanted to take control of his own destiny. He had also had a few problems with his then coach, but these were minor at this time. Chris was a 4th Degree at the time, so he wanted to do things his own way. It MUST be said Chris believes to this day the organisation he was with then (the B.U.T.F.) is the best in the U.K. and his coach was more loyal than he realised back then.
He can say this as just about everyone we have been associated with since leaving them in 2001 has stolen
Instructors and members, tried to enforce new rules on us and damage our reputation by slandering us. This is water under the bridge, as nowadays we operate a stable group that moves forward on its own with no politics.
Chris competed in National events from 1989 right up to 2009 and has scoooped 40 plus awards for doing so – as stated, not many golds, but he has made up with silvers and bronzes and has been a player that has always had a go.
In 1994, he became a coach in Tae Kwon Do and has been running clubs in St. Albans and London Colney since then. He now looks after the L.T.S.I.
It has not been an easy life for him, as he was in boarding schools and homes when he was younger due to his parents not being great role models. At the age of 10, he was involved in a motorbike accident which ripped his stomach out and left him with 170 stitches. He had to learn balance, speech and co-ordination skills again, so you can see what he has achieved is pretty impressive.
As an Instructor he teaches from the heart, he is outspoken at times and will not bow down to pressure from those senior to him, he is extremely disciplined in and out the club and is not a smoker or drinker. When teaching, he reflects and pulls information from his younger years – this approach means that you can learn from his experiences, good and bad. It is documented he has had around 30+ real confrontations – some have been bloody battles from which he has lost teeth and is still carrying the scars, but this is something he is not proud of and can often be heard at class saying he was not a wise man in his teens and early 20's. He has produced over 60 national champions and european and world medalist.
All his grades have been earnt from sweat and blood – as stated above, his co-ordination has always been poor and his speech often weaker than most, yet he makes most look poor in kicking skills or performances. At 38, he is one of the most flexible coaches in the U.K. still but, more importantly, he is down to earth, treating all students the same, regardless of age or creed.
He has trained five days a week, two hours a day personally since starting Tae Kwon Do and still does. He often says his first love in life is his wife and kids, but a close second is his Tae Kwon Do. (read his path to master path to master2 a very personal story written by him)
His dream in life is to run a full time Martial Arts centre one day but, as he says "It may never happen, but I will keep trying". National & International certificates are held by chris 2nd, 3rd, 4th, 5th and 6th and 7th Dan Master Certificates. 1st Degree was issued by the GBTA not shown as damaged during a house move in 2000.
Interntaional I.T.F. Examiner & Referee certificates held.
Certification:
1992 – he achieves 1st Degree under Mr. Ray Dennis, V Degree
1995 – he achieves 2nd Degree under Master R.M.K. Choy VII
1998 – he achieves 3rd Degree under Master R.M.K. Choy  VII
1998 – he was awarded 'excellence achievement' award as a coach by B.U.T.F. Executives
2001 – he achieves 4th Degree under Master R.M.K. Choy VIII
2002 – he achieves International Examiner / Instructor status by Grand Master Rhee IX
2005 – he achieves 5th Degree under Snr. Master T. Nicholls VIII
2006 – he achieves International I.T.F. Referee status 'A' class Grand Master Choi Jung Hwa IX
2010 – he achieves 6th Degree under Snr. Master I. Harry VIII
2016 – He is promoted to 7th Dan Master under Snr Master Dalton VIII of the I.T.F. Union, at the request of the Grand Masters committee.
2019 – He is inducted into an American Martial Arts hall of fame under the headline of Martial Arts Masters Hall of Fame. He said there are many of these 'Hall of Fames' but he is humbled by the accolade.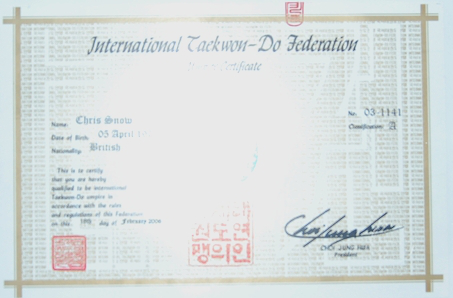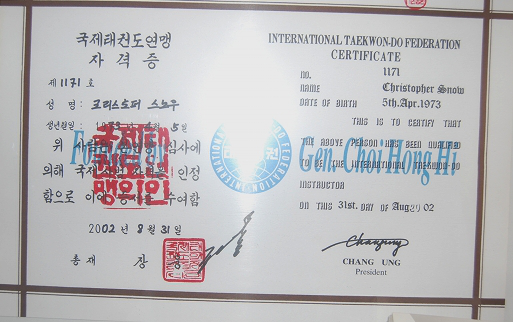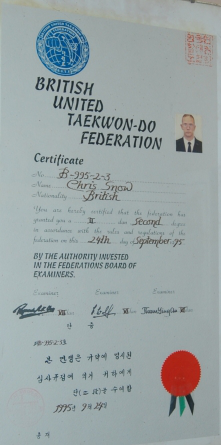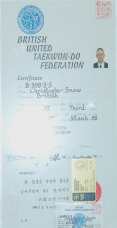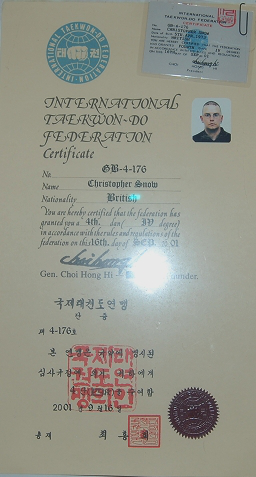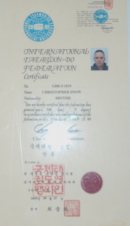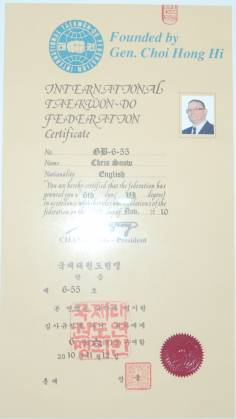 Interested in our clubs?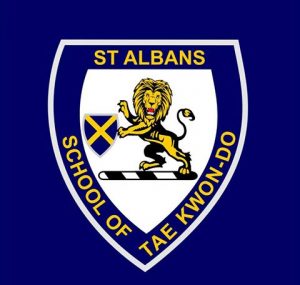 Contact us now and we will give you two weeks of FREE classes. Our clubs are community based clubs, so when you train under us you become part of a very successful family. From day one you will see we are more then a club. We are a group that works hard and get results. If you want to be part of a great team contact us and take the offer.